Biography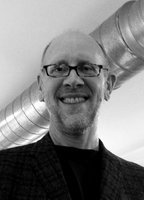 Lucien M. Koonce was born in the North Carolina town of Greenville (Pitt County) and attended undergraduate school at East Carolina University, Greenville, NC. Majoring in Ceramics, he received his Bachelor of Fine Arts degree in 1978.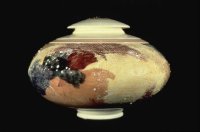 Covered Container
Stoneware clay, underglazes, lead clear glaze; oxidation fired to c/6.
7.5" H x 9" W x 9" D
1977
His graduate Ceramics studies were at the University of Iowa, Iowa City, Iowa. where he received a Master of Arts degree and a Master of Fine Arts degree. This three year combined degree program was completed in 1981.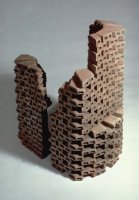 Convergence #1
Extruded earthenware clay hollow tile; hand built and altered; reduction fired to c/9.
31.75" H x 27" W x 21" D
1981
Lucien lived in Robbins, NC (Moore County; located within the Seagrove, NC radius) from 1986 to 2002. This eastern Piedmont region of North Carolina has had a heritage of pottery making since the mid-1800s. It was there that he established Horsepen Kiln Studio.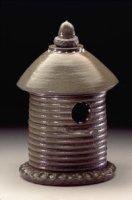 Avian Dwelling with Acorn Finial
Hand built local NC stoneware clay, flint rock chips, salt glaze, natural ash glaze; wood fired (Ben Owen groundhog kiln) to c/10 for three days.
11" H x 7" W x 7" D
1994
From Robbins, he relocated to Charlotte, NC where he was an adjunct lecturer with UNC-Charlotte, teaching Ceramics Handbuilding and Three-dimensional Design. During this time period he re-established Horsepen Kiln Studio in the Asheville, NC (Buncombe County) area.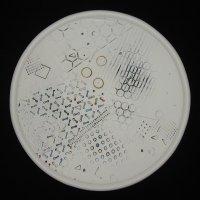 Three Orange Circl
es
Hand formed earthenware clay, terra sigillata, Mason stains; oxidation fired to c/4.
2.25" H x 16.5" W x 16.5" D
2005
In 2008 Lucien left North Carolina and now resides in the western Massachusetts village of Haydenville, where he maintains Horsepen Kiln Studio. His ceramic work consists of hand built (kurinuki technique) functional and sculptural forms, which are wood fired, and are exhibited nationally and internationally.
Guinomi (Sake Cup)
Hand carved and hollowed (kurinuki technique) stoneware clay, natural ash glaze; wood fired (J. Shapiro anagama) for seven days to c/10.
2.5" H x 2.5" W x 2'5" D
2010